Saying "No" can be an ordeal especially if the person you want to say "no" to, is a senior. In that case, you must be careful not to sound rude and back your response with proper reasons.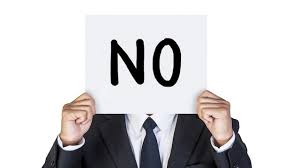 Seniors are sensible people and they appreciate juniors who have the confidence to say no. Most are usually willing to listen to sound reasoning to find a solution. Therefore, you must know how to frame and phrase your response. In this blog, we will see how to tactfully decline an offer by a senior.
7 Things To Consider Before You Say "No":
Instead of declining the request and walking away, here are seven things to consider before delivering an effective, non-polarizing "no":
1. AVOID A POWER STRUGGLE
You can begin by saying, 'I have strong opinions on what is the right answer but I understand this is your call'. In this way, the discussion won't seem like a power struggle. Remember it's not who is right, but what is right.
2. ACKNOWLEDGE THAT YOU ULTIMATELY HAVE THE SAME GOALS.
Members of the military say to salute the flag before you disagree with a senior officer. It indicates that despite the difference in opinion, both parties have a common goal; that is, benefit of the country. The same is true in business. Keep in mind that your ultimate goal is the same: to further the company. Therefore it is necessary that you highlight your intention in case of a disagreement.
3. EMPATHIZE
People are more open to having someone disagree with them if they feel deeply understood. If you aren't willing to change your opinion, don't expect your elders to change theirs.
4. EXPLAIN THE CONSEQUENCES OF THE REQUEST
People often believe if their seniors trusted them, they'd be willing to take a chance and follow their suggestion, but you shouldn't make a disagreement personal when it doesn't need to be.
Instead, draw power from the facts. After you've acknowledged the importance of the request, share how the new task might impact other projects. For example, it might take away needed resources or burden your workload. Then ask for a solution.
5. SHARE YOUR FACTS.
Too often we get into a debate about conclusions. "If you want to say 'no,' and your senior wants you to say 'yes,' each of you has information that differs," he says. Start by exposing where your facts are thin.
Acknowledge what you know to be true and tell your boss how it caused your conclusion. Ask how your senior came to his conclusion. If you're simply in a no-yes argument, you're arguing conclusions, not, facts.
6. SET BOUNDARIES FROM THE START.
When the requests are about your time, it's helpful to establish rules early on.
If you don't want to be on call during weekends or holidays, make this clear at the beginning where there is more leeway and where it's black and white.
7. THINK THROUGH THE TIMING.
If you have just received a poor work evaluation or have said 'no' recently to your boss, perhaps it's not the best time to buck the system. If your past performance has been praised and valued, you have more leeway.
Samples of How to Frame Your Responses At Your Workplace:
The trick is to provide some sort of justification. You don't have to justify your decisions—that's an unnecessary waste of time and an insult to your integrity. But, "because I said so," probably won't make the cut.
So, next time your supervisor asks you to do something and you need to decline, tack a sentence or two onto the end of that. And, if appropriate, add on a suggested solution, too. Here are a few sample responses:
No, I can't go to that meeting for you because I already have one scheduled with Riya to review the budget. But, if you think I should prioritize your meeting, let me know!
No, I don't think I can take the lead on that project because I'm not comfortable enough with that subject area yet. Is it possible for me to shadow someone else this time around so I feel more prepared to do so next time?
No, I'm not sure I want to attend that conference because I'm hesitant to take three days away from my workload, which feels full right now.
I'm thinking no. Here's why: This is right after the welcome week, an extremely busy time for our office. Plus, our event calendar is already rapidly filling up.
I'm avoiding daytime commitments because we may be moving our offices to a different building during that time, which could impact our capacity.
I'm not 100% sure how we'd contribute. I think we'd struggle to find overlap between what our office covers, and what they need.
In A Nutshell:
Saying "No" without making your seniors feel belittled is a tactful job. It is important to remember that your response must be respectful and at the same time must show your conviction. When you have proper reasons to back up your response and you express them with the right attitude, your response will definitely be deemed worthy of consideration.